Hola! It's a rainy day here. Not too rainy, but enough that Mel couldn't mow the lawns until later, so we went to breakfast instead:) I like going to breakfast, but Mel LOVES going to breakfast. I think because he can order things I don't make anymore. This morning he had lemon poppyseed pancakes with some sort of lemony syrup. He was quite happy. I tried to stick to my weight watcher faire. Not too successfully. But I was careful at any rate not to eat too much. So it was all good.
Then we went to Costco to pick up a few things. It is a bit crowded on Saturday, but it was worth it since I had one of those checks they send at the end of the year. So we got it all for "free." Ha, ha! I am sure I have paid for it already, but it is a nice illusion.
Then we went to look at a house I thought looked interesting on Zillow. It looked nice, but the trouble with looking is that we always conclude, we like where we are much better. So it is a good exercise in appreciating what we already have. And "there's no place like home." I suppose as long as we feel that way we will stay put. I am feeling lots less lonely since I have been working at the shop. It has put things back into balance. So that is good. I thought I would share this from Elder Scott. It is great advice!!!!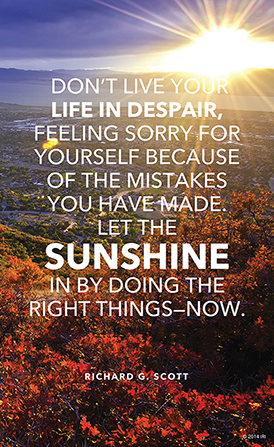 And that is all for today. Tonight is the Women's Broadcast. It is the meeting for all of the women in the LDS church. You can find it here.
Women's Conference
It is available in 26 languages at this site. You can also watch it on BYU TV and Youtube. I will be sure to watch it. I love this meeting!!!
So have a magnificent day out in cyberspace today! I'm still pulling for you!!!!!!!! HAVVVVVVVVVVVVVVVVVVVVVVGW!!!!!!!!!!!!!!!!! Melody